The George Washington Equestrian Monument
Following President George Washington's death in 1799, the General Assembly wanted to build a suitable monument and have his remains interred on the Capitol grounds. In 1849, after years of debate and fundraising, a resolution was passed and a commission was appointed. On February 22, 1850, in the presence of President Zachary Taylor, former President John Tyler, and many other dignitaries and a crowd of thousands, the cornerstone was laid. Thomas Crawford's design was selected in a competition. The bronze statue was cast in Germany and arrived in Richmond late in 1857, just weeks after Crawford died suddenly at age 47.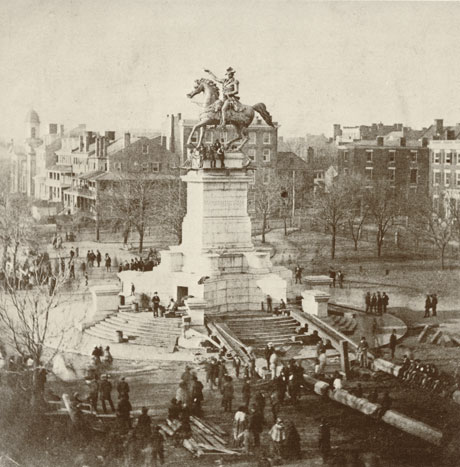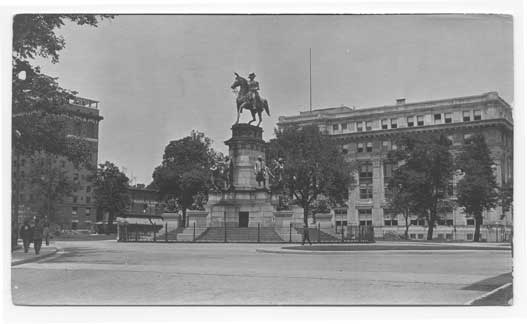 In January 1858, the statue was hoisted into its present location (pictured above, left). Finally, on February 22, 1858, the statue of Washington and three lower-tier statues were unveiled. After Crawford's death, Randolph Rodgers was selected to complete the remaining statues. The final statues were installed by 1869. The photo above right dates from between 1906 and 1911 (the Hotel Richmond, left side of the photo, was constructed in 1904 and expanded by 1911; the Life Insurance Company of Virginia building, right, was constructed in 1906 and expanded in 1922).
Read more click here (PDF document). An article from 1983 is also available click here (PDF document).
Related links: William B. Page, of the Grand Lodge which participated in the laying of the cornerstone ceremony in 1850. The trowel used in this ceremony was also used by George Washington in laying the cornerstone of the U.S. Capitol in 1793.
The 150th Anniversary of the unveiling of the monument was celebrated on Friday, February 22, 2008 at 12 noon in the Old Hall of the House of Delegates. Governor Tim Kaine, Lt. Governor Bill Bolling, House Speaker Bill Howell and many other guests attended the ceremony. Delegate John M. O'Bannon, III, introduced the featured speaker for the event, Ms. Tracy Kamerer (at the podium below), who recounted the history of the monument. The ceremony included a performance of the music composed for the 1858 ceremony by James Magruder ("The Virginia Washington Monument Grand March").
Click here to view the program for the commemorative ceremony.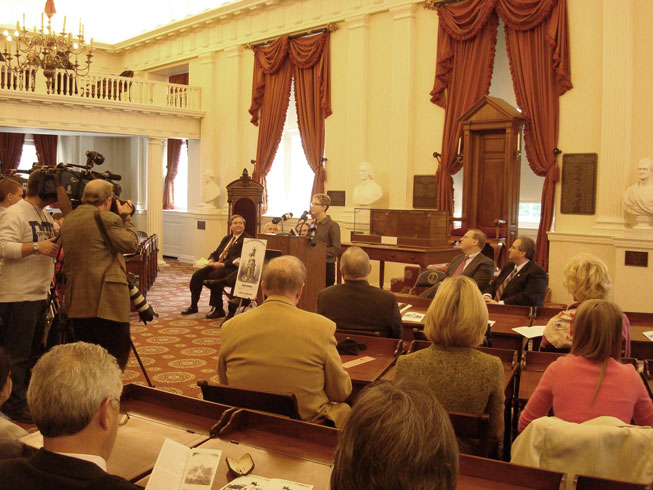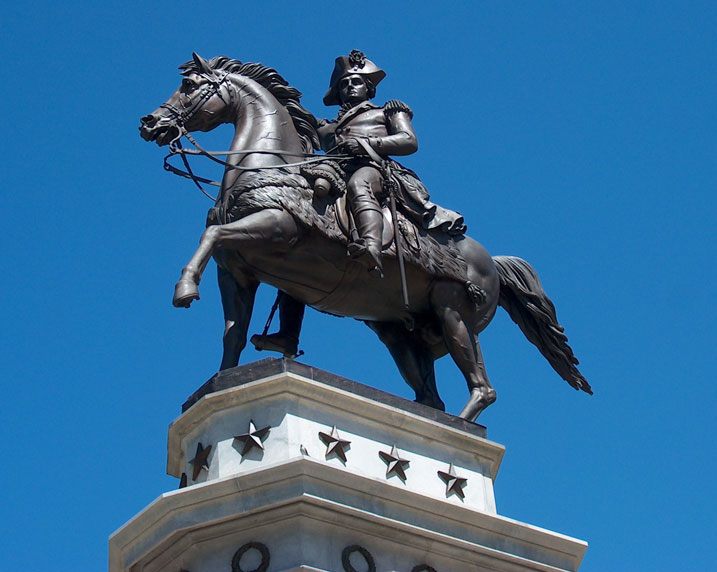 Below are close-up views of the middle and lower tier statues (more photos to come!):
Andrew Lewis

Patrick Henry

George Mason

Colonial Times

Revolution

Bill of Rights

Thomas Jefferson

Thomas Nelson

John Marshall

Independence

Finance

Justice

Side view of allegorical figures

Right: circa 1870's photo of showing a rare view of a water fountain that was removed many years ago. (This image came from a stereoview by Anderson.)

Cleaning the statues - July 15, 2007